In a time of increasing environmental awareness, the decision between looking good and being eco-conscious can be difficult. At Sutro Footwear, we put our best foot forward in making that dilemma easier for you. 
The term "
Full Grain
" is used to label the portion of the hide that is considered to be the best and highest quality leather. The full grain leathers are also biodegradable, which aids in our strive towards creating a product with sustainability in mind. Each natural blemish and inherent imperfection during the natural life of the animal are visible in the hides we use and are purposefully not covered with chemicals in our shoe production process. Maintaining the natural look of our leather allows our shoes to shine with character as they grow older in your collection. As the leather ages, Sutros develop a deeply rich and vintage look. By opting for a more natural look, we are able to maintain the integrity of the leather which separates us from most companies that market their leather as "genuine leather" through promoting blemish-free products.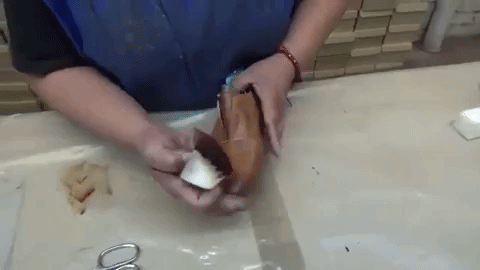 Chemicals most commonly used by many shoe factories are hazardous and cause harm to landfills at the end of the product's life cycle. Over 90% of all leather used in shoes and boots worldwide are tanned using chemicals such as chrome tanning salt (chromium sulfates) and acid. Leather tanned with chrome cannot be recycled nor is biodegradable. The waste water coming from the tanning process containing the chemicals and acid could have a significant harmful impact upon our environment if not managed properly and consciously. Due to the containment and prevention of this waste water from reaching ground being extremely costly, negligence in the care of our environment adds to economical concerns as well. In many unregulated cities around the world, the heavily contaminated waste water from tanneries is released to sewer systems which in turn pollutes the ground and well water, which in turn affects the water consumed.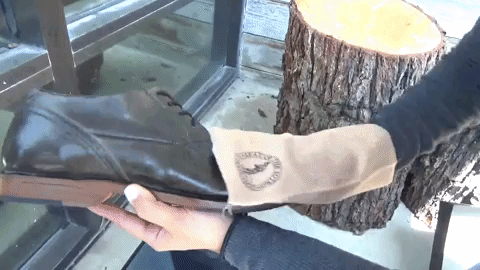 Instead, our leather is tanned with vegetable oil that is extracted from tree bark and mixed with natural beeswax. Once the leather is colored, it is left to air dry for 30 days before being
hand polished
one last time with beeswax before reaching the softness that our customers experience the moment a pair is worn. By simply rubbing the surface of the leather with a soft cloth, you can bring the new-shoe shine back with the natural oils thanks to the natural components of our finishing cream.
Here at Sutro, we believe that the combination of an all natural leather sole coupled with all natural rubber mid-sole brings our customers ultimate comfort and flexibility from the first our Sutros are worn. Sutro leather soles and stacked leather heels are all from naturally tanned, full grain leather. To increase the flexibility, comfort, and to reduce stress, the leather sole is hand carved in consideration to where the midfoot comes into contact with solid ground. The stacked leather heel is also carved by hand to match each pair individually, and our all natural rubber is also then carved and inserted along the out back half of the heel. A thin, flexible, and very soft section of all natural rubber is then inserted into the carved midfoot area. 
We understand that being a conscious consumer in this age means understanding exactly where your energy and money is being invested into, and being aware of the entire life cycle that consumption products undergo and how it affects your environmental world. Investing in a shoe that is versatile with a long shelf life means conserving money in a big picture sense. Not only are our customers paying for style but they are also paying for the thoughtfulness that goes into the development of our products. We strive to make our customers shoes that will last a lifetime, look better as that time passes, and will leave a lower carbon footprint in the end.
We hope you will join us in our mission towards sustainable footwear!